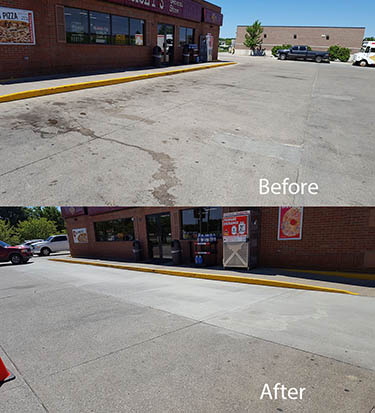 After 3 years of research, testing, trial and error, Full Circle has finally found a great solution to keeping your concrete looking good. We have seen time and time again that power washing the oil stains only washes away the surface residue and leaves a trail of toxins leading to the nearest storm drain. This treatment method does not work and is very expensive. There is a better way!
We have come up with a solution that not only works once but it continues working and it is safe for the environment! Full Circle uses a proprietary product that applies an enzyme down into the concrete which treats and cleans the affected oil and gas area without using any water. The result is that it leaves the area looking practically brand new! As customers pull up to the stores and leave oil and gas stains, the enzymes from the proprietary product that were applied continue to go to work on the stains for weeks after the treatment.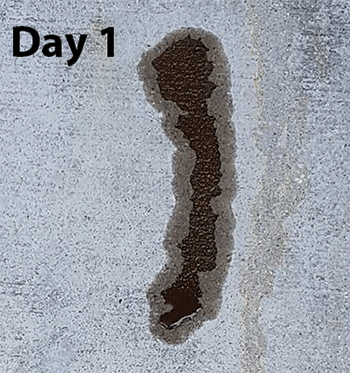 Our treatment solution is very simple. After the initial service has been applied by Full Circle, the treated area only takes a few minutes to re-apply. Based on the amount of traffic, Full Circle will provide an initial recommendation on how often to treat the area. For active retail locations we recommend treatment during store down time. This solution creates a win/win/win by providing a continually good-looking storefront plus a safe way to rid the environment of an oily mess and at a lower cost than the traditional power washing method.
The end result is an extremely affordable solution that gets ongoing effective results.
Don't take our word for it. See our testimonials and ask our customers what their experience has been.